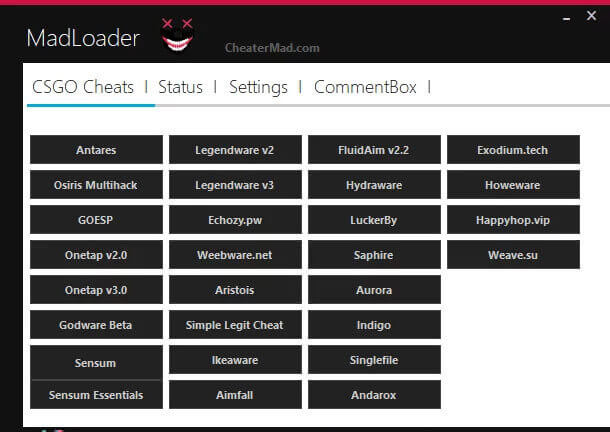 Download MadLoader Injector
Download MadLoader for free and load cheats into CSGO.
Game compatibility: CSGO
Platforms: PC
File size: 3.6MB
Rating: 4.9/5
Status: Undetected
DOWNLOAD NOW
About MadLoader
MadLoader is a CSGO cheat loader that can bypass VAC and other anti-cheats. The best thing about MadLoader is the fact that it comes with tons of CSGO cheats included in the injector. Download it now for free and enjoy some fun undetected cheats.
What if, by means of one click, you're able to have all the CSGo cheats at your disposal? Yes, the single application called MadLoader assists you in doing just that.
Notably one of the best game cheat loaders, MadLoader is free, user-friendly, and offers tons of cheats for CSGo. You can even add cheats if none of the existing ones suit your playstyle.
Since we've got your attention now, here's an article for you on the MadLoader cheat loader.
Next Generation Cheat Loader
CSGO players can avail themselves of a variety of game hack loaders. Among them, the most well-known ones include DarkSpy and BetaLoader. But if you've already tried them out and didn't quite like it, here's an alternative tool for you. We present to you the efficient game hack loader MadLoader.
Considered as among the best well-designed and decent cheat loaders, MadLoader is the answer to every CSGO gamer's prayers. What makes it even more efficient is that all its services do not cost a penny.
As mentioned earlier, the game hack loader provides a variety of hacks to inject into their CSGO game. Users can easily make use of popular cheats such as Godware and GOESp. It also includes Orisis Multihack, OTC v3, OTC v2, and many other such efficient hacks.
Besides, MacLoader is completely legit and safe for use in games. So rest assured! In CSGo, you'll be able to inject any type of dll through the Custom dll that MadLoader offers.
But you must practice caution when it comes to this game hack loader. Make use of only the latest updated version. Also, it has to be in the "Undetected" mode.
 Features and Benefits
The CSGO hack loader receives updates regularly.
It comes with preconfigured settings loader.
MadLoader also offers a loader to search for random cheats.
The tool comes with a linkvertise bypasser as well as VAC bypasser.
The former assists you by removing all those annoying ad links. In contrast, the latter helps you slip through anti-cheat VAC mechanisms.
Signing up with MadLoader is not only free but also gives VIP access at the same time.
Once you install the hack loader, it comes with preloaded free CSGO hacks.
Users will not have to avail themselves of a third-party injector. MadLoader offers a built-in safe injector. 
Detailed Steps to use MadLoader
In case you're making use of an Antivirus, ensure that it's turned off.
Run the CSGO application. Do not enter a match; be it deathmatch, casual or competitive. Simply be in the lobby.
Start MadLoader.
Choose from the numerous preloaded hacks.
When you decide on the hack you wish to make use of, install it.
Note: Remember that in case you don't wish to use the preadded cheats, you can employ your own hacks. To do that, you'll have to inject the hacks using the inbuilt MadLoader injector.
Included Cheats
MadLoaders supports many custom cheats. A few of them are:
Millionware
JustMove
Headripper
Hydraware
Godware
GOESP
Orisis Multihack
OTC v3
OTC v2