Download Xenos 64 injector and load cheats into any game.
Game compatibility: ALL games
Platforms: PC
Last update: 4 days ago

Rating:

Status: Undetected
DOWNLOAD NOW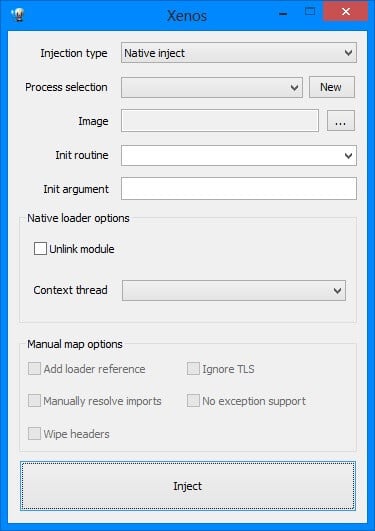 What is Xenos Injector?
The Xenos Injector is a powerful tool that lets you inject dll files that enable cheats and mods into your favorite games. It gives gamers a new level of fun by letting them do what they want inside the games to have a wholly unique experience. Since mods need dll files, the Xenos Injector makes it possible. 
How it works
Have you been trying to look for ways and means to utilize cheats and not get caught while using Steam? We give you the Xenos Injector. This is a free tool that is used to inject DLL files, allowing you to play popular games like GTA Online, CS: GO, PUBG, and so many more. The Xenos Injector functions by injecting coded dll files in the game, making sure the anti-cheat game engines do not discover it.
This tool is quite effective and easy to use regarding injecting dll files into the games you want to play. It's free to download, which anybody can use on their systems. Let's take an in-depth look at the tool and how to use it.
Key Features:
It injects dll files into the game files to make it possible to use mods and cheats. 
Xenos Injector supports x86 and x64 architecture, making it easier to use in all the systems.
It is free to download and use, which is compatible with the latest Windows operating systems.
The tool is built so that it bypasses cheat detection engines and is completely undetectable, making gamers safe from bans.
It supports manual mapping that outperforms any rival tools on the internet.
How To Download & Install
The steps to get Xenos Injector is quite simple and straightforward. We'll give you steps on how to download and install Xenos Injector on your system successfully. 
Click the download button on this page to download Xenos.
Double click on the file where you will have to run it as an admin.
Wait for it to finish installing and load it up.
How to Use Xenos:
Boot up the application and under Process Selection, choose the game.
Click on Add, after which it will load the dll files through the tool.
Choose the advance tab, where you'll have to delete the PE headers and unlink all the modules.
Go to the General Options section and alter injection delay to a specific digit which you'll have to change based on the game you are playing.
Finally, click on Inject and boot up the video game of your choice that lets you use cheats and mods without having to worry about it being detected. 
Is it Safe to Use? 
While many people claim that Xenos Injector goes undetected, you should use it at your own risk. Injecting dll files is simple to do where it can go untouched by anti-cheat engines so that you can try your hand at it. Ensure you do all the necessary steps while handling and setting up the tool so that the developers will not carry out bans while playing your favorite games.