Download CJB Cheats Mod Menu Trainer
Download the free CJB Cheats Menu for Stardew Valley
CJB Menu Features:
Auto-feed.
Infinite hay.
Setting tomorrow's weather.
Fast machine processing.
Harvest with sickle.
Money (if money is shared).
Time (only the main player can change time).
Instantly build buildings.
Durable fences.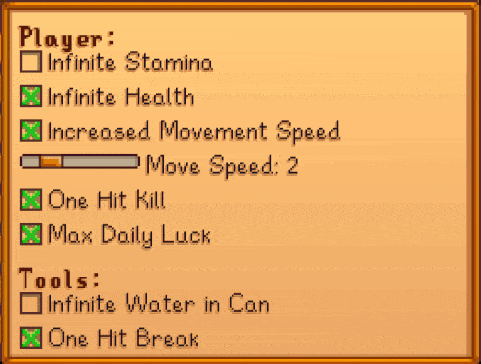 How to install:
Install the latest version of SMAPI.
Download this mod and unzip it into Stardew Valley/Mods.
Run the game using SMAPI.
How it works:
Load your save, then press P on your keyboard to show the cheats menu.
To change the button:
On Linux/Mac/Windows, open the menu and then use the "Controls" tab to choose a different controller/keyboard/mouse button. (You can also change config.json directly if needed.)
On Android, see use key bindings on Android.